We at North Idaho Antler Dogs would like to say "Thank You & Good Luck Antler Hunting" to all our clients and their new shed antler hunting companions.
---
UPDATE OF "CODY" WHO HAS JUST RECENTLY GONE HOME TO WYOMING!
We are so pleased with Cody. Pierre takes him out in the desert in the
backyard three to four times a week. He finds every horn he puts out
there for him. He is very smart and quick to learn. He is minding very
well. We just love him!
Pierre and Bonnie
---
UPDATE ON "KODA" WHO HAS JUST RECENTLY GONE TO HER NEW HOME IN MONTANA

Hello Diane,
Just wanted to touch base. Kane and Koda have been out quite a bit – every night after school! It is a blast watching her do her thing. She is amazing and has great stamina; she is on the hunt the whole time we are out. She brings in every little antler she comes across. She has found a lot of deer sheds. Today we decided to go look for elk sheds. We went to a spot we knew should have some sheds. We looked in our regular spots; openings and near tree line. No success. We then went into the woods trying to find where they may have bedded down. Sure enough, Koda found three antlers! It was neat watching her. She couldn't carry one of the antlers because of the downfall but was persistent in trying to get it to us. She is an amazing dog! Please find attached an elk antler she found today.
We are learning how to "read" Koda when she knows an antler is in the area and give her time to search.
Thanks again!
Ray Hess
Last night Koda found the
match (IMG 1863,IMG 1881) to antler she found last week (image5). The
antlers were 152 feet apart. Kane was watching her on his GPS and she went
to where the antler was 3 times, so he walked over and she took him to it.
Kane is learning to read Koda and pay attention to her tendencies. IMG 1854
is a shed Koda found and her largest so far. They are out right now trying
to find the match.
I am impressed with her!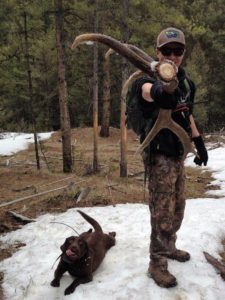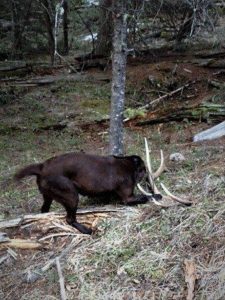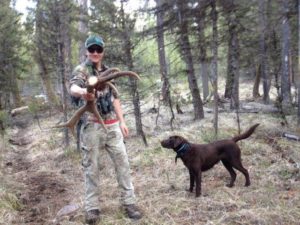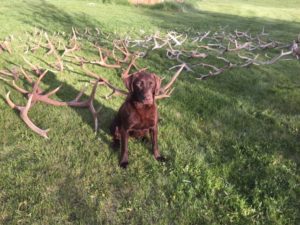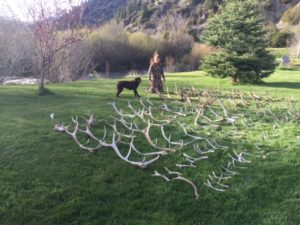 ---
~SCOUT~
Diane; As you know, my shed hunting season was winding down in 2014 when Scout arrived. After the break-in phase of getting him used to me as his master, we got to train a lot around the house but didn't get to go on a real shed hunt until last weekend ( almost a year later ). My kids and I were really excited to go after seeing so many great bucks post season.
After pulling into our favorite spot, Scout had his nose to the ground and did not miss a beat after hearing my "SEARCH" command. He found a small five point right of and brought it to me. Not long afterwards, he saw the big drop tine about 70 yards away in the food plot and had it back to me in seconds! In all that afternoon, we found 21 sheds and Scout located and retrieved 16 perfectly! He uses his eyes a lot more in the open, but really uses his nose in cover, woods, and in a good breeze. I've seem him get a whiff of a shed 75 yards downwind and go straight to it in thick cover! He is just amazing. I'm going to work him pretty hard this year as long as we can stay after it! Just wanted to let you know how he was doing and thank you again for the best antler dogs out there! Sincerely, Lance H Nichols mrdeer70@yahoo.com
UPDATE ON SCOUT November, 2016.
Hi Diane!
I just wanted to update you on Scout since he's beginning to mature. I have begun cross training him to retrieve while still practicing his antler searching. He is simply amazing. He has completely bonded to me now and everyone notices that he is a total "pleaser" for me. He absolutely loves to retrieve, but has never waivered on the sheds either. He actually hunts harder for sheds because it seems he knows something must be there if I told him to search. His skills are incredible. One day, he found a whitetail shed in a foot of leaves..it was two years old! He went back after I walked off, and I thought he was just hung up on the scent of the first one..he brought me the matching shed! He has never failed me once on a shed or a retrieve. I've sent him back as many as three times, but he has never given up. He has been worth every penny I paid for him for his training and bloodline. He is the smartest dog I've ever seen. Lance Nichols.
---
~Griz~
Thanks Diane for providing such a good service. We picked up Griz last January. It took under a week to train him for the house. His chores are to pick up dirty socks and drop them in the hamper, and to go out to the mailbox to fetch the newspaper. Griz in the house and the vehicle is very calm. I have a one year old grandson who Griz lets crawl all over him. As for Griz's shed hunting, he has been awesome, finding 90 sheds last year. The only thing that limited him was my inexperience at putting him on the right mountain. In the first 2 weeks of January this year he has found 7 sheds. Most being from the last year with him digging through the snow to find them. I'm excited about this years shed hunting. Thanks again, Archie Birdsall, Athol, Idaho.
UPDATE ON GRIZ (now Scooby)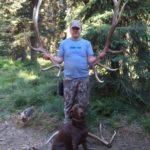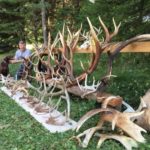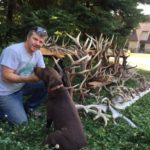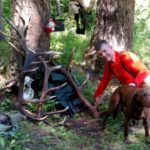 2016
Scooby is really hitting his stride!!!
---
~Mollie~
Hi Diane, I just wanted to take some time to email you and let you know how happy we are with our chocolate female, Molly and what a great dog she's turned out to be! We are forever grateful to you and your husband for breeding such great dogs. Molly is now 8 months old and over 60 lbs! But she is beautiful! We can't take her anywhere without people saying how beautiful she is and how good a dog she is. She is very well mannered but is super playful when she wants to be, which is exactly what we wanted. She is spoiled at times but she is so smart. She's a great listener and we've taught her some tricks. Her favorite is high-five. 😉 My boyfriend Dayton hasn't had time to take her hunting this fall but she is very birdy and a great retriever! Thanks for teaching her so early on! She also LOVES water! I've attached some pictures for you to enjoy. I hope all is well in Idaho and that you are still breeding happy, healthy puppies that continue to make family's proud, just like you did with Dayton and I. We love our dog! Thanks Diane!!
---
UPDATE ON 2015 TRAINEE HARLEY
Harley got her first find today!
We went for a walk to check trail cameras. I was putting a card in, looked back and she's bringing me a horn.
Very happy with her, she loves people and always works hard.
---
2015 Trainee "PAKA"
2018 update on Paka
Hi Diane,
Today we took a 4 hour hike up this ridge where you would least expect to find anything, but Paka came running back down with an antler. It was one from last year. I get comments time and time again on how he is the best behaved dog. Paka is almost 3 and has a great on and off button, once outside the truck its all work and eyes on me all day long. Even from a distance away he always looks up to see where I am at. The other day at work we spooked up a herd of deer and I let him watch them run away and called him back, which he came to me immediately.
2017 update on Paka
I work in the timber industry and I was looking to replace my old hound. After talking with Diane on the phone I put down a deposit for a pup from Arrow and Hunter. What a wonderful dog we got from that litter! He quickly got used to working in thick brush and on very steep slopes, which is good because that's where we find some blacktail sheds. Paka also performs other duties that have helped us while working, such as finding a can of tree paint we dropped in the thick brush or retrieving my co-workers hard hat that fell down 100 feet on a 70% slope. He is wonderful with children and very gentle with the elders. If I hunted bird he would have made a great bird dog, a natural pointer at the grouse. We also tried some dock diving with him and he is a natural at it. At 63 pounds he is the perfect sized dog for us, we get commented on how well he behaves and his conformation. Thanks Diane for such a great dog.
Sena & Dave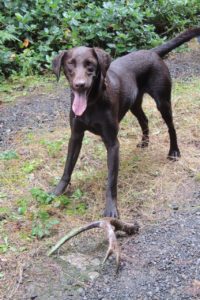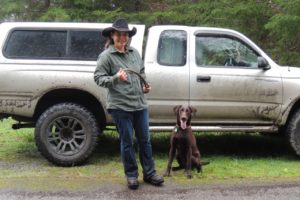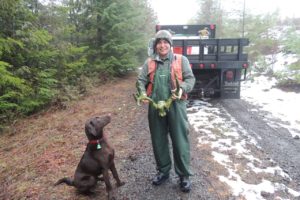 ---
~Hunter~
We purchased Hunter from Diane and Kevin Schmid in February 2011, he is exactly what we were promised and more. He is very well trained dog, obedient, kind and a super antler hunter. He knows what his job is and is very serious about it. He is truly one amazing dog that will bring back those antlers. Thanks Diane and Kevin Schmid for such a great dog. Hunter's new home is in Indiana.
UPDATE:
North Idaho Hunter wins the 2014 Amateur NASDHA World Championship!!!
---
~Autumn~
We were talking about getting a dog, to be part of our family, not just a pet. My husband is really into hunting and being out and about in the woods. He started doing research on antler dogs, I didn't even know that such dogs existed, after four or five websites he came across Diane and Kevin's website. He got really excited and contacted them and we started to correspond, and a week later we decided to go ahead and purchase a dog. In July we took our family vacation to Idaho to meet Autumn. We spent five days in Idaho going with Diane and seeing how she trains Autumn and the commands she uses. Kevin and Diane were just wonderful, down to earth people that made us feel right at home. We are so happy with the decision to purchase and meet Autumn that we can't wait until we get her! Autumn's new home is in Arizona.
---
~Bullet~
We purchased Bullet from North Idaho Antler Dogs in November 2011 when he was 8 weeks old. Diane was very helpful in preparing Bullet for his long flight across the country. Bullet is now 4 months old and we could not be happier with him. He is an amazing family dog with a great personality but he is also smart and a hard worker in his training. We are training him ourselves and we are amazed at his progress, he is already finding antlers both by sight and by scent. We can't wait to get him out on his first real shed hunt. Purchasing a puppy from across the country was a tough decision but one we will never regret. I would definitely not hesitate to purchase another puppy from North Idaho Antler Dogs. Thanks Diane and Kevin Schmid! Bullet's new home is in New York.
---
~Buddy~
We decided to go check a spot today and sure enough, there are some bulls wintering. Another month and off we go to find fresh sheds. On our way I decided to check a little spot that I have not looked at for a few years. So we did a couple hour walk and seen lots of fresh elk tracks and on top of it all, we pulled out a two year old matched set of elk sheds. Cant complain and what a way to start the shed season with my new partner, who found the first one and 80 yards later spotted the 2nd one… enjoy the pics.
---
~Buck~
I just wanted to let you know how Buck is doing. If you remember Buck was not able to go out shed hunting last year due to an accident where he broke his leg. This year we were a little worried he would just want to play and not hunt since we had not really worked with him in over a year! Well I took him out today for the first shed hunt of the year, and he immediately kicked into hunting mode and within 10 minutes had brought us back a shed! He is absolutely the best family dog and hunting partner we could have asked for! We are not big time shed hunters but we do it when we can, so being able to have such a good family dog that is well behaved and still able to kick into mode when we do get out is everything we could have asked for and more! Buck's new home is in Kansas.
---
UPDATE ON BUCK
North Idaho Antler Dogs;
Just thought I would let you know that the puppy we got from you is doing incredible. Super smart, fast learning dog. He is already to the point where he will go find sheds and bring them to me that I hide in the grass without me even telling him to go find them. Thank you for the incredibly smart quality dog!!!
Justin
---