"KIMBER" SHED ANTLER HUNTING AT IT'S BEST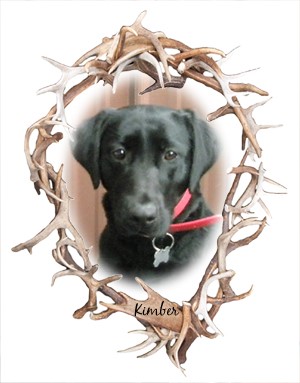 KIMBER'S ENERGY AND LOVE OF THE ANTLER HAS BEEN PASSED ON FROM HER MOTHER, "ARROW". SHE IS THE TYPE OF DOG THAT WILL FOCUS ON YOUR EYES, JUST WAITING FOR YOU TO GIVE HER A COMMAND. SHE IS FULL OF DEVOTION, WANTING TO GO ANYWHERE I GO OR DO ANYTHING I DO. SHE IS A TRUE PLEASING COMPANION. WHEN IT COMES TO ANTLER HUNTING, SHE WILL GO AFTER THE LARGEST OF THEM ALL, JUST TO HAVE THE JOY OF BRINGING IT BACK TO ME.
KIMBER GETS ALONG WITH ALL OTHER DOGS, LARGE AND SMALL, IN FACT I USE HER AS MY BABY SITTER FOR THE YOUNGER PUPS. SHE IS KIND AND OBEDIENT, LOVING ANY STRANGER THAT COMES TO THE HOUSE.
HER BLOODLINES HAVE BEEN USED FOR HUNT & FIELD TRIALS, SEARCH & RESCUE, SPECIAL NEEDS, DOCK DIVING, AGILITY AND OF COURSE SHED ANTLER HUNTING. KIMBER'S PEDIGREE HAS SOME WELL KNOWN HUNTING LINES, SUCH AS:
Duck Buster's Limited Out Again, Top Guns Heart Of A Lion, Kingsland Catch Me If You Can, M and M's Cooper, Kingsland's True Blue, River Oaks Way-Da-Go Rocky, Chugach Hills Jazz's Rascal, Canis Major's River Bear and Wolfcreeks Chocolate Mousse.
Please scroll down for more information, videos and photos.
"KIMBER"
AKC REGISTRATION / #SR91203703
WEIGHT / 62#
COLOR / Black – yellow carrier
HIPS / PennHIP – 90th percentile
EYES / NORMAL
CNM / CLEAR through parentage
EIC / CLEAR through parentage
PRA-prcd / pending
KIMBER DOES NOT CARRY THE (DILUTE) D LOCUS GENE
PLEASE CLICK ON LINKS BELOW TO OPEN THEM UP FOR VIEWING
Kimber's color results D Lotus
Kimber's color results B & E Lotus