"CRYSTAL" YELLOW SHED HUNTING DREAM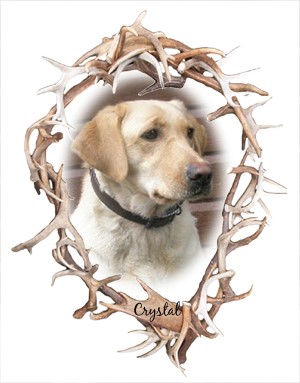 CRYSTAL HAS A TREMENDOUS DRIVE FOR THE ANTLER, NOT HESITATING AT ALL TO PICK UP THE LARGEST OF ELK SHEDS. SHE HAS A SWEET PERSONALITY, VERY SMART AND OBEDIENT.
CRYSTAL IS ADDING SOME POWER TO OUR SHED HUNTING DOG BREEDING PROGRAM, WEIGHING OVER 70# AND HAVING A STOCKY BUILD. SHE GOES FOR ANY LARGE ANTLER SHE CAN FIND. THE STRENGTH SHE WILL PASS ON TO HER OFFSPRING WILL BE A REAL ASSET FOR THE SHED ANTLER HUNTERS WANTING A DOG THAT CAN HANDLE THOSE LARGE ELK ANTLERS AND MOOSE PADDLES. SHE REALLY IS A POWERHOUSE WHEN IT COMES TO HER WORK.
CRYSTAL IS ALSO SHOWING A NATURAL POINT TOWARD THE BIRDS, FOR THOSE OF YOU WANTING A PUPPY FROM HER FOR A BIRD HUNTING COMPANION. SHE HAS SOME EXCELLENT HUNTING LINES IN HER PEDIGREE, SUCH AS:
WATERMARK'S TEXAS WELCOME, KINGSLAND HAVE NO MERCY, BLACK FOREST BEAR GRITS, RATTLIN RIDGE'S BRONCO BILL,

KINGSLAND'S CATCH ME IF YOU CAN, M AND M'S COOPER, CHUGACH HILLS JAZZ'S RASCAL, KINGSLAND'S TRUE BLUE, CANIS MAJOR"S RIVER BEAR, GATOR'S POINT CREE OF SILVER BOW, DUCKBUSTERS LIMITED OUT AGAIN, TOP GUNS HEART OF A LION, MOOSEHEAD PETE'S THE BOSS, AND RIVER OAKS WAY DA GO ROCKY TO NAME A FEW.
Please scroll down for more information, videos and photos.
"CRYSTAL"
AKC REGISTRATION / #SR92222206
WEIGHT / 72#
HIPS / PENDING
EYES / PENDING
EIC / CLEAR THROUGH PARENTAGE
CNM / CLEAR THROUGH PARENTAGE
PRA-PRCD / PENDING
COLOR / YELLOW – CHOCOLATE CARRIER
CRYSTAL DOES NOT CARRY THE (DILUTE) D LOCUS GENE
PLEASE CLICK ON LINKS BELOW TO OPEN THEM UP FOR VIEWING.
Still under construction, please check back!
Crystal's color results D Locus
Crystal's color results B Locus